Guernsey's £14m electricity generator delivered by barge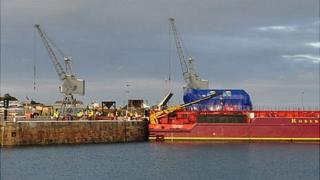 Guernsey's new electricity generator has arrived in the island after its delivery was delayed by bad weather.
The barge carrying the 360-tonne oil-fired generator arrived in St Sampson's Harbour on Saturday.
While the 18m (60ft) long, 5m (16ft) wide and almost 6m (20ft) high unit was offloaded on Sunday evening the harbour was closed to other vessels.
The offloading was completed before the high tide at 20:45 BST and the harbour reopened about 21:00 BST.
The vessel had been due to arrive on Tuesday but was diverted to Southampton due to bad weather.
The generator is the single largest piece of machinery ever brought ashore in the Bailiwick.
Shortly after 10:00 BST the three separate sections - generator, engine and transformer - were moved by road to the power station.
The largest section, the engine, was moved with a specialised 96-wheel remote control vehicle.
The build of the generator is due to be completed in December with it expected to start producing power in March.
Alan Bates, managing director of Guernsey Electricity, said he was pleased with how smoothly the delivery had gone.