Guernsey sewage work noise warning for residents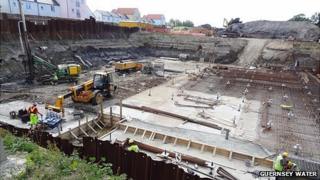 People who live near Belle Greve Bay have been warned about noise late into the evening during the latest stage of work on an £11m sewage system upgrade.
The replacement of Guernsey's treatment facility is due to be finished by July.
About 200 properties have been sent leaflets about the latest stage, which involves concrete being poured until 23:00 during September and October.
Andrew Redhead, from Guernsey Water, said the project team would be working hard to minimise disruption.
He said: "Clearly this work will be undertaken as quickly as possible, but we do apologise to neighbours if indeed there is a small amount of noise and inconvenience caused by lights and construction activities."
The work involves concrete slabs being laid for the base of the stormwater tank, which is being installed to reduce the risk of localised flooding.
Mr Redhead said as the concrete takes 4-6 hours to dry the normal working hours of 07:30-18:00 might have to be extended to as late as 23:00.
He said it should not have to happen more than 10 times during the two-month period.