Guernsey and Isle of Man leaders look to work together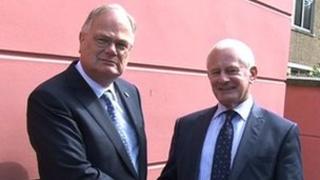 Guernsey and the Isle of Man need to work more closely together on mutual areas of interest, according to the chief ministers of both islands.
They were meeting for the first time since Guernsey's general election in April, when Peter Harwood was elected.
His Manx counterpart Allan Bell said closer working was needed on the development of international business.
He said cooperation was also needed on the islands' constitutional relationships with the UK.
Deputy Harwood agreed the islands, along with Jersey as the third of the Crown Dependencies, had a lot of common ground on which they could collaborate.