Alderney coxswain chosen for Diamond Jubilee Pageant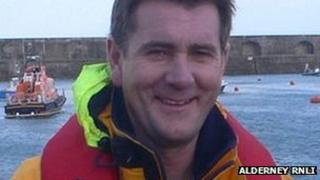 The Alderney lifeboat coxswain has been chosen by the RNLI to be a part of the crew of its newest all-weather lifeboat for the Diamond Jubilee Pageant.
The lifeboat, named Diamond Jubilee in honour of Queen Elizabeth's 60-year reign, will be among about 1,000 boats travelling on the Thames on 3 June.
The Queen will be on board the Royal Barge, Spirit of Chartwell, which will be the focal point of the flotilla.
Declan Gaudion said: "It's a huge honour... a once-in-a-lifetime event."
He said: "It's a wonderful way to celebrate the extraordinary commitment of Her Majesty, our volunteers and everyone who supports the RNLI."
The participation of the £2.7m Tamar-class Diamond Jubilee coincides with the final part of its crew's training and familiarisation, with it expected on station in Eastbourne and ready for active service towards the end of June.
The crew members chosen represent the different countries and islands of the British Isles where the RNLI saves lives at sea.
A number of former RNLI lifeboats will be taking part in the Diamond Jubilee Thames Pageant.
The RNLI will also provide inshore lifeboats as safety cover for the duration of the pageant including Jersey's Howard D , which was the island's first motorised lifeboat.