Guernsey fire engine sold in efficiency drive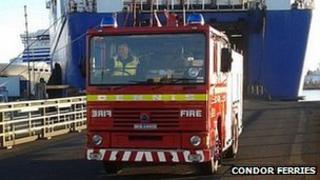 A fire engine has been sold to a UK supplier as part of an efficiency drive by Guernsey Fire and Rescue Service.
Chief fire officer Jon Le Page said maintaining the 20-year-old appliance cost about £2,000 a year, which could be better spent elsewhere.
In the past old fire appliances have been donated to charity.
However, Mr Le Page said the efficiency drive was aimed at making savings whenever possible and the engine would be used as credit with the supplier.
He said: "We've analysed the data from the last 20 years and actually it's a resilience.
"Although it could be needed in reality, it's never really been needed, so we took the decision not to replace it to save on that capital outlay and just to dispose of it."