Island Hospital series to be filmed in Guernsey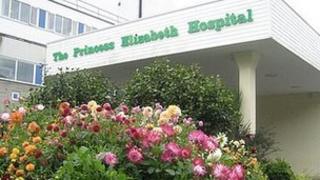 A series focussing on hospital life on an island will be filmed at Guernsey's Princess Elizabeth Hospital (PEH).
Maverick Television, which made Children's Hospital last year, has been commissioned by ITV1 to produce 12 episodes, each lasting 30 minutes.
Filming is due to begin in May and Richard Evans, health department director of corporate services, said: "This is a fantastic opportunity."
The cameras will also follow staff outside work.
Mark Downie, head of factual at Maverick, said: "The series will also show the role the hospital plays at the very heart of the community by placing it within the wider context of island life.
"So we'll follow the medical staff out of work as well as in, as they enjoy everything that's great about Guernsey life."
'Rewarding'
Mr Evans said: "Island Hospital [the series' working title] will showcase the excellent work being done at the PEH and present our staff as the skilled and experienced professionals they are.
"As well as helping islanders get a better understanding of how the hospital works and the challenges we face day-to-day, we hope this series will aid our recruitment process for trained staff.
"In addition, now that we are also training some of our own staff, it will hopefully show people that a career in healthcare can be very rewarding."
He said the department was happy patient care would not be impeded by the filming.
Mr Evans said: [The producers] have assured us, and demonstrated through their track record, that they can go about the filming without affecting the way we treat patients and they have systems in place to manage the relevant consents required from any patients who do, or do not, wish to be featured in the series."
The Princess Elizabeth Hospital has 150 beds and about 1,000 staff, which is less than half the number of beds and a similar level of staffing to the Royal Manchester Children's Hospital where the company previously filmed.
Mr Evans confirmed the department would not be receiving any money for the project, but said it would have other benefits as scenic shots of the island would be a great advert for tourism.
He said: "The series is a feel-good style documentary aimed at a tea-time audience.
"In this respect the producers are looking for human interest stories rather than anything that could be taken negatively.
"We are, however, conscious that issues can arise at the hospital that can be seen less favourably so we will need to ensure, as we always do, that problems are tackled quickly and effectively and with a great deal of transparency."