Coughing machine for Guernsey charity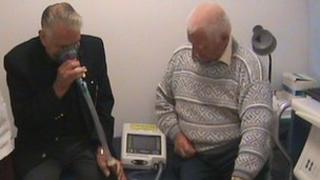 A Guernsey charity has received enough cash to buy a machine which helps patients to cough.
The Motor Neurone and Neuro Concern charity has taken delivery of a NIPPY Clearway which helps patients clear their lungs.
The portable machine means patients can now use the machine at home, rather than travelling to hospital.
Motor Neurone patient Bill Tatnall said the machine makes breathing a "lot easier" and helps him move around.
The machine works by inflating the lungs, causing the patient to take a deep breath, before the pressure is changed and the patient coughs.
The machine is often used to help patients with lung disease, spinal cord injury or neuromuscular weakness.