Guernsey Les Bourgs Hospice to hold third £1m lottery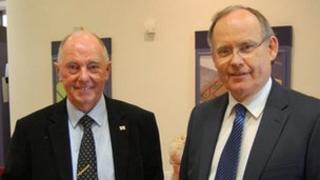 A Guernsey charity is to hold its third £1m lottery draw in four years.
The Friends of Les Bourgs Hospice initiative was launched earlier by Guernsey's Bailiff, Richard Collas, with the draw scheduled for 13 October.
Mr Collas, who is a former chairman of the charity's trust, said: "An awful lot of people give very generously and that's very important and appreciated."
The hospice raised £765,000 through two draws in February and December 2009, both of which were won by syndicates.
A group of taxi drivers and their friends and families won £33,300 each in the first draw and staff at Beau Sejour Leisure Centre won £50,000 each in the second.
Tickets for the former sold out in 12 weeks, however sales were much slower for the second lottery and they sold out only three weeks before the draw.
Jack Honeybill, the chairman of the Friends of Les Bourgs, said he hoped the tickets would sell out quickly this time.
"We thought it would be good to do it this year, in the year the hospice is open," he said.
Patients were readmitted to Les Bourgs in January following a £4m rebuilding project.
Tickets cost £300 each and there are five thousand for sale.