Guernsey installs cruise ship tender pontoons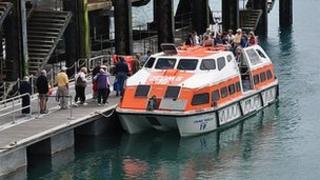 New steel pontoons have been installed in Guernsey's St Peter Port Harbour to make it easier for cruise ship passengers to get ashore.
Passengers are ferried to and from the island by tenders.
The new tender pontoons were built following complaints from some elderly passengers the stairs were too difficult to use.
The first cruise ship of the season, the 600-passenger Norwegian liner The Fram is due to arrive on Saturday.
A total of 79 cruise liners are due to arrive this year, 10 more than in 2011 when more than 63,000 people came ashore.