Titanic memorial plaque for Guernsey's St Peter Port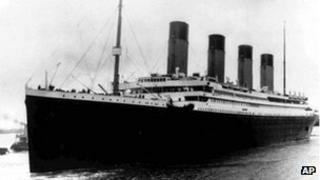 A plaque will be put up in St Peter Port in memory of Guernsey residents who died when the Titanic sank in 1912.
Fourteen of the 19 Guernsey people aboard died when the vessel sank in the Atlantic on its maiden voyage.
Relatives of Laurence Gavey, who was one of those who died, have paid for the memorial which will be placed on the North Esplanade.
The plaque will be unveiled on 15 April to mark the centenary of the sinking of the passenger liner.
The 14-sided blue plaque, measuring 80cm x 80cm (31.5in x 31.5in), was given planning permission last month.