Guernsey beaches get metal and plastic recycling bins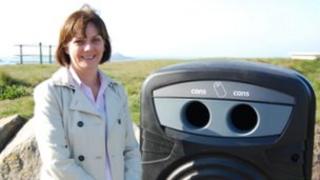 New recycling bins have been placed at 12 Guernsey beaches as part of the States' drive to meet targets for waste management.
The 24 bins cost £650 each (a total of £15,600) and allow beach users to dispose of cans or plastic bottles.
Tina Norman-Ross, the island's recycling officer, said they would help towards reaching the recently-adopted target of 70% recycling by 2025.
"It's going to be initiatives like this that change behaviour," she said.
The new target, combined with the minimisation of waste production, was the central theme of the waste strategy voted through by the States in February.
Mrs Norman-Ross said: "The amount of recycling that we're going to collect in these bins is not going to make massive differences to our percentages.
"What we're hoping to do, with this kind of initiative, is get people really thinking about recycling and make it normal for them to expect these facilities."