Waitrose asks to open on Sundays around Christmas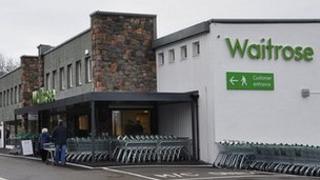 Waitrose has applied for permission to open in Guernsey on two Sundays in the run up to Christmas and New Year.
The company said it wanted permission to open its Rohais and Admiral Park stores on 23 and 30 December.
A spokesman said: "This is simply a one-off request for the convenience of our customers because of the fall of Christmas and New Year this year."
The Commerce and Employment Department said it would consult with other food stores before making a decision.
Under current legislation grocery stores with floor spaces larger than 400 sq m (4,300 sq ft) cannot open on a Sunday.
In its application Waitrose said the day before Christmas Eve was traditionally the most popular day for food shopping.
The move has the support of the island's Chamber of Commerce. President Julian Winser said: "[The chamber] is supportive of this on a one-off basis because it's sensible.
"As a result of being open on those Sundays there won't be an enormous amount of food they have to throw out and actually it's a very convenient time for shoppers and I think if you ask all the consumers they will agree this is a sensible thing to do."
The department said any relaxation of the law it might propose would apply to all traders in the sector.
It said it intended to carry out a public consultation on the future of trading on Sundays towards the end of the year.