National Trust of Guernsey to restore barn and cider press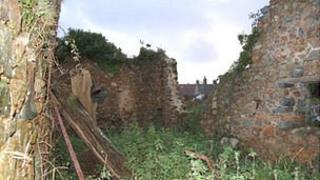 The National Trust of Guernsey has been given permission to restore an old barn and cider press.
The building sits behind the Les Caches farmhouse, which dates back to the 1840s, near the Gouffre, in the Forest.
Andrew Dyke, buildings advisor to the trust, said the work would probably take about a year.
He said the construction process would also be used to educate students and islanders about the traditional building methods used in the island.
He said: "When we did the farmhouse in front, for instance, we had children from the Forest School coming to visit and see how it was sort of put together and students from the College of FE [Further Education].
"I hope we'll be able to do that with this project as well so everybody can get a chance and see how these things are put together."
The trust acquired the farmhouse in 1993 and has spent years restoring its original features using traditional methods.
It now aims to restore one of the two semi-derelict barns on the site and place inside a traditional granite cider press, which was used to pulp apples before the juice was turned into cider.