Guernsey Police armoured vehicle defended by minister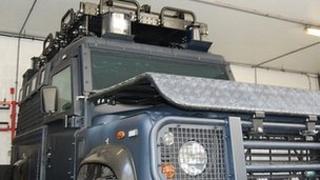 Guernsey Police's purchase of an armoured Land Rover had the full backing of the Home Department, its minister has revealed.
Deputy Geoff Mahy, who is standing down from the States in April, said it had been agreed 15 months ago as part of upgrades to the force's firearms unit.
He said: "The police do not shape the undesirable changes of society.
"However, it is important if we are going to protect our community that we are best prepared."
Since the vehicle arrived in the island last week, some members of the public have suggested it is "over the top" for policing in the island.
Some have called the £183,000 cost a "waste of money" that could be better spent elsewhere.
However, Deputy Mahy said the past decade had seen an increase in the number of "lone shooter" incidents in the UK and further afield.
He said: "Whilst Guernsey remains a predominantly safe place to live, it is not divorced from equal levels of mental health, domestic violence and alcohol abuse experienced elsewhere.
"It is equally naive to consider that Guernsey is not totally free from any terrorist threat, neither should the island present itself as a 'soft target' should any group or individual seek to make statement by this means of action."
Deputy Mahy added: "We hope that such incidents don't occur but we hope the police are equipped should they occur.
"These capabilities will only be used in those incidents - on a day-to-day basis routine visual policing will continue with that for which we are most familiar and wish to sustain far into the future."