Guernsey Asterix museum 'will take time'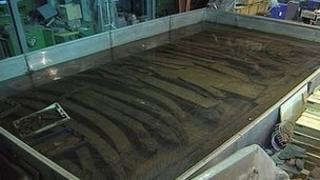 Getting the funding to house the Gallo-Roman wreck Asterix in Guernsey will be a long process, according to the chief executive of the Mary Rose Trust.
The trading vessel was discovered in the mouth of St Peter Port harbour and raised between 1984 and 1986.
Timbers have been undergoing conservation work at the Mary Rose Trust in Portsmouth since 2006.
Rear Adm John Lippiett said getting the funding would be a long process, but it needed to be done properly.
He said: "There's the whole business of putting [it] into display in the right environment or climate to make sure it is maintained at all times - that will be expensive.
"It's much better to wait to get the situation absolutely spot on rather than rush at it and then find you've put it into a bad environment.
"It would be well worthwhile because it is tremendously important, very important to the island, but also to the international history of northern Europe and the trading that was going on."
Rear Adm Lippiett said during his nine years of working with the Mary Rose he had found "long-term endurance and patience" combined with "never letting up the pressure to keep seeking funding" was needed for this kind of project.
Jason Monaghan, director of Guernsey Museums, said work was continuing to find the funding for the seven-figure project.
He said the preferred model would involve a public private partnership.