Guernsey Police 'need to be self-sufficient'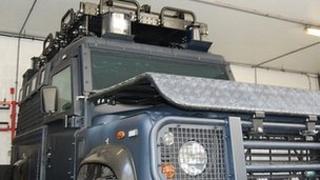 Guernsey Police say they "have to be self-sufficient" in response to questions over the purchase of a £183,000 armoured Land Rover.
Some members of the public have asked whether the vehicle, which was delivered earlier this week, was needed in an island with a falling crime rate.
Insp JP Le Breton said with no help nearby, the force had to be prepared for the worst kind of incident.
He said: "Being an island jurisdiction, we've got to be self-sufficient."
Insp Le Breton said: "If we were to suffer something as nasty and unfortunate as something like Cumbria or Hungerford we would need outside aid.
"It would take a substantial amount of time to get a vehicle like this to us, that is if a UK force were prepared to lend it to us... it's a risk we can't afford to take."
He said: "The vehicle can carry a crew of six, including the driver, and has been specifically designed so we could use it to evacuate injured casualties... we can get a full size stretcher in with room for a medic to work.
"We're going to have to spend quite a bit of time training and getting familiar with it."
Insp Le Breton said: "Hopefully we won't have to use it but it's an extra asset and capability we have to protect the community we serve and the police officers who have to go out and face these potential threats."