Guernsey's marine ambulance in Queen's Diamond Jubilee pageant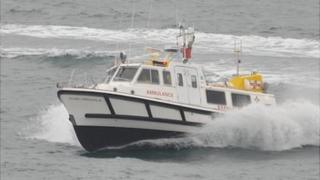 Guernsey's marine ambulance will be among a thousand boats gathering on the River Thames in June to celebrate the Queen's Diamond Jubilee.
The pageant will involve ships of all shapes and sizes from across the world travelling from Battersea to the Tower of London led by the Royal Barge.
The Flying Christine III has been offered and has accepted a place among them.
Jon Beausire, chief ambulance officer, said he was delighted.
He said it was especially pleasing as 2012 was the 60th anniversary of Guernsey's Marine Ambulance Service.
Flag and bunting
Mr Beausire said: "The Flying Christine III is the third vessel to have provided the service since its introduction in 1952, and during this time the craft have carried out thousands of missions to the surrounding smaller islands, ships and other vessels at sea.
"It will be an honour to represent Guernsey, St John and the ambulance services of the British Isles using our unique marine ambulance, as part of the Thames pageant in celebration of the Queen's Diamond Jubilee."
It is one of only two marine ambulances in the British Isles. It will not only represent Guernsey, but also St John Ambulance and Rescue Service nationally and the wider ambulance services also.
Mr Beausire said sponsorship had been secured for the fuel and to ensure that the Flying Christine III could fly Guernsey's maritime flag and be decked out with appropriate bunting fit for such a special occasion.
He also praised the efforts of the Bailiff's chambers and support of the Lieutenant Governor in securing the ship a place as spaces in the pageant were three times oversubscribed.
Sir Geoffrey Rowland, Bailiff of Guernsey, said: "Guernsey's maritime history and tradition is well-known. We are a people of the sea and Guernsey folk are part of the rich tapestry that makes up the fabric of the British nation.
"The Flying Christine III is very much part of life in the British Isles with its maritime history and tradition. The professionalism and bravery of the ambulance rescue men and women is renowned.
"I anticipate it will be a glorious and memorable event. The vessel's master and crew are keen to participate and they are looking forward to 3 June with eager anticipation."