Guernsey fishing licence scheme approved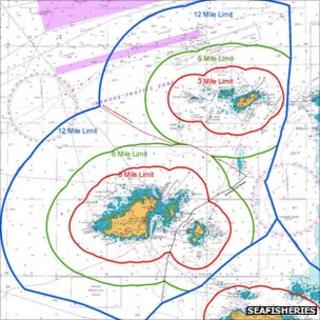 The introduction of a fishing licence scheme for the area between three and 12 nautical miles (nm) around Guernsey has been approved by the States.
After approval by Sark and Alderney's governments, the legislation will be sent to the Privy Council for final approval before becoming law.
Approximately 1,000 sq nm of sea surrounding the Bailiwick has been unregulated since 2007.
The scheme would mean vessels operating in the area would need a licence.
The Commerce and Employment Department said the system was needed to protect fish stocks and protect shellfish grounds by preventing towed fishing methods being used.
It said not introducing licences would also be a "significant risk" to the livelihoods of the 171 Bailiwick fishermen.
Minister Carla McNulty Bauer said: "We cannot be definite in the timeline after this but we hope it will be no more than 18 months before the law is in force and licensing is in place.
"All licensed Bailiwick boats will automatically be issued with licences for the extended area... [while] non-local boats will have to demonstrate a record of commercial fishing in these waters for a three-year period."