Guernsey cows and milk big in Japan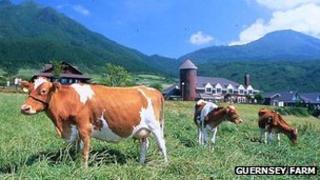 In Japan's rural Oita prefecture, a farm celebrating one of Guernsey's best loved exports is doing a roaring trade.
Guernsey Farm sells its own dairy products all made from the milk of its herd of Guernsey cows.
The farm lies on the edge of the Kuju mountains on the Western island of Kyushu, and 60 cows currently occupy its pastures.
Hitomi Wakayama, the farm's operation representative, said Guernsey milk is popular although not widely known about.
'Golden milk'
The farm was set up in 1985 and currently had only Guernsey cows, although there were plans for more breeds later this year.
It chose Guernsey cows for the quality of their milk, which Ms Wakayama has dubbed "golden milk".
But island cattle have not only travelled to Japan.
Ray Watts, the president of the World Guernsey Cattle Federation, said while 50-60% of the world's Guernsey cows were in America, other herds existed in Australia, New Zealand, Canada and South Africa.
The island will be hosting the World Guernsey Cattle Conference next year, during which delegates from around the world will attend meetings, activities and farm visits.