Guernsey greenhouse gas decrease continues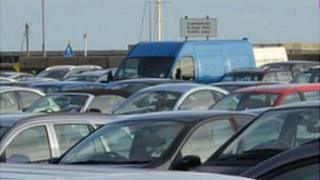 Guernsey's greenhouse gas emissions have continued on a downward trend, according to figures released by the Policy Council.
Figures for 2010 show the island emitted 379.1kt of carbon dioxide equivalent, which was a decrease of 11.6% on the 2009 figures.
It means Guernsey is currently ahead of it target to meet the Kyoto Protocol, a reduction of 12.5% on 1990 levels.
Transport continued to be the biggest source of emissions, 27% in 2010.
This is despite the amount of gas produced by vehicle exhausts in the island steadily falling since 2000.
The only continuing rise in emissions since 1990 was for fluorinated gases.
Thereport by AEA technologysaid emissions of the gases, used in refrigeration, air-conditioning and heat pump systems, were "relatively small" at 3.9% of the total but were increasing.
It said the gases had "very high global warming potentials compared to carbon dioxide", as an amount about 1g in weight could have the same effect as 1 ton of carbon dioxide being released into the atmosphere.