Guernsey's La Mare Road closes permanently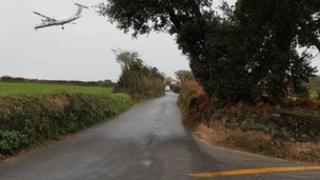 A road in the south of Guernsey will close permanently to allow work to the island's airport to take place.
La Mare Road will be shut to traffic and pedestrians from Thursday, and will be blocked at both ends.
The closure of the lane at the western end of the airport runway was approved by the States of Guernsey as part of an £80m renewal of the airport's surfaces.
La Mare Road will now be filled in and a grass runway safety area will take its place.
A new junction was constructed in St Peter's Village to enable the road to be closed and for traffic to use alternative routes.
The Public Services Department asked that residents do not try to access La Mare Road, and said that construction equipment would be using the area.
The work to renew Guernsey Airport's runway and surfaces was approved in October 2011 after more than a decade of debate.
It is the island's biggest capital project to date.