Guernsey Post releases Queen's Diamond Jubilee stamps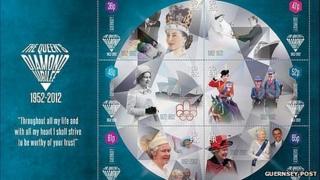 A set of stamps has been released by Guernsey Post to commemorate the Queen's Diamond Jubilee.
Dawn Gallienne, head of philatelic, said each stamp depicted two images, reflecting both family and public life.
They include the Queen in her coronation crown, made in 1661 for King Charles II, and Prince Charles admiring his baby brother Prince Andrew.
Mrs Gallienne said: "We really wanted to show another side to her and give the stamps a little bit more depth."
She said: "Because Her Majesty has been reigning for 60 years it gave us lots of material, so we've used various images and tried to split them up into decades.
"For example on the 65p stamp there's a picture of when she visited Guernsey on Liberation Day 2005 and on the 36p stamp there is a picture of Her Majesty with her crown, which was [taken] fairly soon after her coronation."
Mrs Gallienne said the aim had been to produce a less formal set.
"We were very conscious we didn't want just a set of six faces on images, sometimes they are very nice but they have been done before."
The images include the Queen taking the salute during Trooping the Colour in London in 1983 along an image of two of Her Majesty's grandchildren, Prince William and Prince Harry in their Wetherby School uniforms.
The Queen is also pictured presenting the Jules Rimet trophy to Bobby Moore following the team's victory over West Germany in the World Cup final in 1966.