Titanic remembered on Alderney stamp release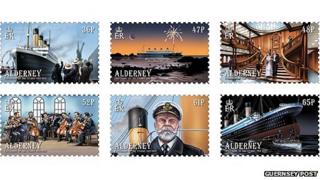 A set of six stamps to commemorate the 100th anniversary of the loss of RMS Titanic has been released by Guernsey Post.
About two thirds of the 2,223 people on board died when the passenger liner sank on 14 April 1912 after hitting an iceberg on its maiden voyage.
The six Alderney stamps were designed by Devon-based artist Nick Watton.
Dawn Gallienne, head of philatelic, said they had discovered the ship had sailed past the Channel Islands.
She said: "She sailed past Alderney as she travelled from Cherbourg to Queenstown on what was to be her first and last voyage. We have depicted her sailing past Braye Harbour on our 47p stamp."
After leaving Southampton the Titanic picked up passengers in French and Irish ports before setting out across the Atlantic Ocean to New York.
The other stamps show the Titanic leaving Southampton, the ship's captain Edward Smith, the grand staircases, the orchestra playing in a bid to restore calm and the fateful night when she sank into the sea.
Alderney also features on a coin issued by the Royal Mint to commemorate the anniverary as it was issued under the authority of the Channel Island.