Guernsey household recycling levels remain steady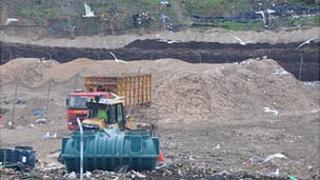 Household recycling in Guernsey has levelled off according to figures released by the States.
During 2011 there was a 0.8% year on year increase in the amount of recycling as an additional 100 tonnes of waste was recycled or composted.
Out of the 26,400 tonnes of household waste produced last year 46.4%, 12,236 tonnes was recycled with the remainder going to landfill.
The levelling off followed a 10% rise in recycling from 2009 to 2010.
The figures, released by the Public Services Department, show no change to the projected lifetime of the landfill site at Mont Cuet, which has been estimated at 2022.
The rate of commercial recycling, 41% in 2010, has not been released.
Earlier this week the States agreed to investigate exporting waste as the preferred method to take over from landfill in the future.