Guernsey Airport terminal investigation to go ahead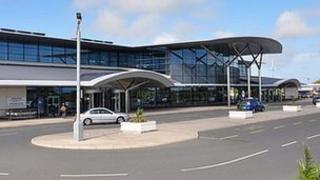 An investigation into how the contract to build Guernsey Airport's new terminal was awarded will go ahead, the States has decided.
The Public Accounts Committee, which was tasked with the review in 2004, asked for approval not to carry it out.
Vice-chairman Barry Paint said the committee had been unable to undertake an investigation as all related legal action had not been concluded.
Deputies agreed by a vote of 37-3 that it should be carried out when it could.
The members of the committee abstained from the vote.
The States agreed the move for an investigation eight years ago after reports some local firms were in financial difficulties having not been paid for work done or materials supplied.
Over budget
The company responsible for those payments itself experienced financial problems and later went into administration.
Deputy Paint asked for the commitment to investigate be withdrawn as it could not be carried out due to "possible litigation".
The new terminal opened in April 2004 after coming in £7m over its original £16.4m budget.
It was one of a number of capital projects that went over budget at the time, including St Peter Port Harbour's New Jetty and the redevelopment of Beau Sejour Leisure Centre.
It led the States in 2009 to introduce new financial checks and processes on the funding and review of capital projects.