Guernsey Police detonate World War II explosives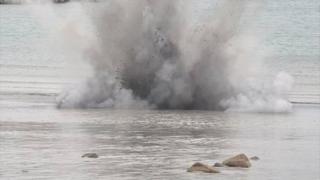 Three anti-tank mines have been detonated on Pembroke Bay by bomb disposal experts from Guernsey Police.
Two of the mines were discovered by a dog walker last week and an attempt to extract them was aborted as the tide was not low enough.
While recovering the devices the bomb disposal team found a third, which was destroyed with the other two mines.
Duty Inspector Terry Coule said they had been moved up the beach before being detonated in controlled blasts.
The Tellermine 42s were laid around the coast by the German forces occupying the island during World War II to deter an Allied landing.