Guernsey Airport runway traffic plans released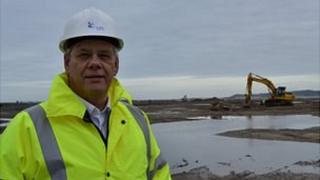 Plans for transporting 220,000 tonnes of material for the Guernsey Airport redevelopment project have been revealed.
After arriving at a temporary dock, being built at Longue Hougue, the material will be moved by road.
Gerry Prickett, project manager, said: "It is one of the most complex elements of the project and potentially has the greatest impact."
He said he hoped the plan would allay any concerns islanders have.
The traffic plan for the £80m runway redevelopment has been drawn up between Lagan Construction, Guernsey Police and the traffic section of the Environment Department.
Tipper trucks and tractor and trailer units will be fitted with a GPS system, a radio to communicate with a fleet controller and limited to a maximum speed of 25mph.
Mr Prickett said drivers, including those recruited locally, would be given "comprehensive induction and ongoing training" including safety on the road and at construction sites and familiarisation with the route.
The vehicles will travel south from Longue Hougue to the Halfway, then inland via Route Militaire and around the coast to L'Eree and on to the airport.
On the return journey, vehicles will go through St Martin, down the Val des Terres and along the east coast.
The trucks are scheduled to operate six days a week with breaks around school opening and closing times at La Houguette, Forest and Le Rondin Schools.
Rest stops will be sited at Grandes Rocques and L'Eree and will be used during the breaks for schools and to avoid vehicles bunching together.