Royal Mint releases Titanic 100th anniversary coin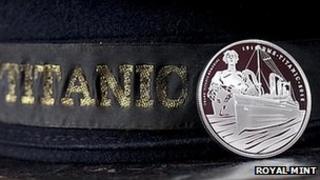 The Royal Mint has released a special £5 coin to mark the 100th anniversary of the Titanic's tragic maiden voyage.
The voyage on the passenger liner began on 10 April 1912, when the ship set sail from Southampton to New York.
Four days later it sank after hitting an iceberg, claiming the lives of 1,500 of the 2,223 people on board.
The coin has been issued under the authority of the Channel Island of Alderney and is legal tender, but will not be issued into circulation.
'Purpose and pride'
Dr Kevin Clancy, director of The Royal Mint Museum, said: "The Titanic has long captured imaginations.
"The passing of 100 years has not lessened the interest in the tragic outcome of her maiden voyage, the personal stories of those on board or the achievement of the iconic ship as a feat of British engineering.
"The Royal Mint's coin will mark this occasion and, we hope, will be passed on to future generations to honour the lives that were lost, underlining the significance of RMS Titanic in British history."
The coin depicts the profile of RMS Titanic with the goddess Thane looking down on the ship as it sails through the Atlantic ocean.
A marble statue of the goddess of death was erected on 26 June 1920 at the Harland and Wolff shipyard in Belfast, where the Titanic had been constructed.
Lee Robert Jones, Royal Mint engraver, said: "My design is concerned with the spectacle of the ship and her story.
"Thane, the goddess of death, is to reflect the significance of the event; she symbolises respect and sorrow for the loss that ultimately occurred.
"Her stark silhouette contrasts with the detailed image of Titanic, cutting through the waves with purpose and pride."