More Legionella treatment for Guernsey hospital water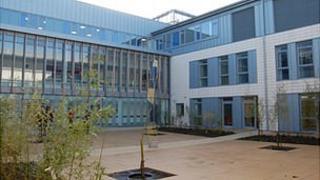 Further treatment has started at a Guernsey hospital after tests showed a higher level of Legionella than authorities were "prepared to accept".
Following work in January the majority of the hospital's water supply has tested within acceptable levels.
But Richard Evans, director of corporate services, said higher bacteria levels in water at the new clinical block meant further treatment.
It will involve the water being heated and chemically treated.
Mr Evans said: "This is the only area of the hospital that remains a concern and it is the hot water supply in this area that needs further treatment.
"As before, this work will be done in a way that will minimize the inconvenience to patients and staff and ensure that normal operation of the clinical block continues while the treatment is taking place."
In a statement the Health and Social Services Department said it would be conducting further testing next week to check the levels of bacteria following this latest treatment.
It said no cases of related illness had been identified in patients, visitors or staff, but that staff remained vigilant for signs of infection.
The department said the treatment process was a precautionary measure and until it was carried out water in the new clinical block of the PEH remained safe for routine use.