Two jailed over heroin import into Guernsey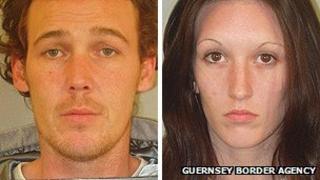 Two Weymouth residents have been sent to prison for importing heroin worth up to £20,000 into Guernsey.
David Iain Shields, aged 31, and Emma Louise Pring, 24, of Littlemore, tried to smuggle the drug by ferry on 14 July, 2011, the court heard.
They came ashore separately and were stopped by customs officers.
Both pleaded guilty at Guernsey's Royal Court on Wednesday. Shields was sentenced for eight years and six months and Pring for six years.
Shields, of Kirkilton Avenue, also pleaded guilty to importing of the Class C drug diazepam, which could have been sold for about £34, and was ordered to serve two years to run concurrently.
When stopped by officers Pring, of Canberra Crescent, who was travelling with a three-year-old child, removed a package of heroin from her jeans.
Shields was taken to the Princess Elizabeth Hospital for examination and was found to have internally concealed two packages containing the drugs.
Judge Russell Finch said he was dismayed a young child had been used in this venture and could not understand why Shields had committed a second offence knowing the severity of Guernsey's sentencing.
In 2006, he had been sentenced to more than six years in jail for importing the Class A drugs ecstasy and crack cocaine into the island, the court heard.