Guernsey Brothers' Cemetery survey begins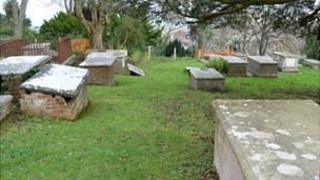 An archaeological survey of the tombs and vaults in Brothers' Cemetery in St Peter Port has begun.
An application to turn the site into a park was recently withdrawn after several objections were raised.
Philip de Jersey, the Guernsey States archaeologist, is leading a team of five seeking to establish the condition of dozens of tombs.
The assessment, which is due to be used to decide the future of the site, is expected to take four days.
Mr de Jersey, who was one of those who raised objections, said: "We wanted to look properly at the site before the Ecclesiastical Court are able to make a judgement.
"We need to provide a bit more detail and that's basically what we're doing now.
"Many of the tombs in here are in good structural condition, there are some that are collapsing or in serious need of attention, but it's by no means true to say they are all like that.
"There are about 120-130 tombs and what we're doing is following exactly the guidelines that are in operation in the UK."
English Heritage and the Church of England issued a detailed guide for the maintenance and recording of cemeteries, last year.
"What I want to come up with, probably sometime in March, is a sort of grading of all the tombs ranked one to four with those at one either at the most need of assistance or the ones you could argue should be demolished and at four at the other end of the scale are the ones that are perfectly sound," said Mr de Jersey.
He also pointed out that there are hollows and depressions in the cemetery ground, indicating unmarked graves.
"They are still sinking slowly so that's another aspect that has to be considered if the area is to be opened to the public," he said.
If the Ecclesiastical Court approves the plans, put forward by the St Peter Port douzaine, to make the area into a public park it will still need to get planning permission from the Environment Department.