World War II mines found at Pembroke Bay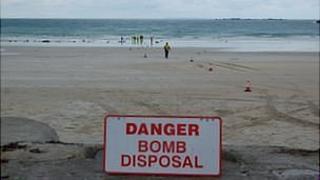 Swimmers at Pembroke Bay have been advised to take care, following an unsuccessful attempt to detonate two World War II German mines there.
One anti-tank device was discovered at the weekend by a dog walker and destroyed by Guernsey Police officers trained in bomb disposal.
During that operation two further anti-tank mines were found nearby.
An attempt to remove them at low tide on Monday was unsuccessful and officers are due to try again next week.
The mines need to be dug out of the ground before they are blown up.
A spokesman for the bomb disposal team said: "We could not see anything, there was too much silt in the water, so we'll just have to wait for another tide.
'Heavily mined'
"The beach is safe, but if anyone sees anything give us a call and just like anytime you are on a beach, watch where you put your feet."
He said: "This beach was heavily mined during the Second World War to prevent an Allied invasion and in the bad weather some of the mines used to fall off the barricades into the sea.
"The Germans weren't particularly good at retrieving the old ordnance, they just strapped more mines to the barricade.
"The mines are still live, they are very unpredictable at this age.
"They've been in the water for over 65 years so there's a lot of explosives still contained within the mine in a very, very poor state.
"It's unusual to find three so close together, so I assume they've all come off the same barricade.
"A lot of strong tides have shifted the sands further up the beach and exposed them."