Channel swimmer Roger Allsopp named Guernsey ambassador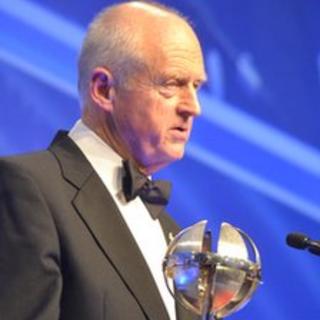 Record-breaking Channel swimmer Roger Allsopp has been named Guernsey Ambassador for 2011.
Mr Allsopp, who became the oldest person to swim the Channel in August 2011, was honoured at the Awards for Achievement ceremony at Beau Sejour.
As well as the ambassador awards, people from the island were honoured in categories such as Unsung Hero and Business of the Year.
The event takes place annually to recognise local achievers of note.
Mr Allsopp received his award from Guernsey's Bailiff Sir Geoffrey Rowland.
He said: "People have been so kind, the people of Guernsey have been so supportive, you can't express in words really my gratitude."
Mr Allsopp also received an Oldie award - an accolade given by The Oldie magazine - for Cross-Channel Swimmer of the Year.
Meanwhile, Kim Marquis picked up the Unsung Hero award for her work with charities in the island.
Ms Marquis won the public vote for the award, which honoured her volunteering work with the Pink Ladies and Wigwam groups.
After receiving the award, she said: "I feel the same as I did when I was first nominated, just completely gobsmacked and overwhelmed by the whole thing.
"I'm just so proud, incredibly proud, but I'm just this tiny little cog in the whole wheel of the charities that I belong to ... I don't feel I'm anything special."