Sark Folk Festival 2012 line-up announced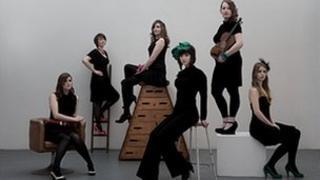 The organisers of the 2012 Sark Folk Festival have announced the line-up for the three-day event.
Artists from the UK and further afield will be gracing the stage, along with a range of acts from the Bailiwick.
International acts confirmed include British group The Shee, Australia's Emily Barker and Devon's James Findlay.
A strong list of local acts has also been confirmed for the third annual festival, including The John Wesley Stone and The Barley Dogs.
Organisers said more local acts would be announced in due course.
Also on the list of UK artists appearing at the festival is BBC Folk Award nominee Emily Portman.
Shrewsbury Folk Festival favourite Lucy Ward and seasoned folk performers Sean Lakeman and Kathryn Roberts are also on the bill.
Weekend tickets for the event have already sold out, although organisers said some limited tickets were available from the festival's website.
The 2012 Sark Folk Festival takes place between Friday, 29 June and Sunday, 1 July.
The festival also took place in 2010 and 2011, and more than 1,500 people attended the festival last year, more than doubling the population of the island.