Guernsey States sticks with natural sewage treatment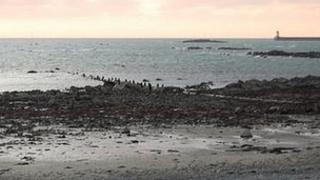 Moves to investigate full and partial sewage treatment for Guernsey have been rejected by the States.
Deputies have instead approved £6-8m of work to replace and upgrade the current long sea outfall, through which sewage is discharged into the Little Russell.
The Public Services Department had suggested the improvement and reviews every four years after an independent report into the impact of sewage.
It found full treatment would provide no benefit above the proposed changes.
'Scaremongering'
Minister Bernard Flouquet said: "If one accepts that there is little or no tangible benefit to be derived from having a fully land-based solution then the issue is largely one of perception and to some extent reputation.
"Contrary to what the critics might say Guernsey is not the only place in the developed world where this form of treatment is deemed appropriate - Victoria, British Columbia, Canada has a similar fast flowing tidal stream providing an equally sustainable wastewater disposal route.
"Using the natural resources of the island we can provide a sustainable, reliable and efficient means of liquid waste disposal at the lowest possible carbon footprint and indeed cost."
He said the end of investigations into introducing sewage treatment would mean the current wastewater investigation charge of £50 per household could be stopped, once the costs already incurred had been paid off.
During debate Deputy David De Lisle, who called for full sewage treatment, had called on politicians to reaffirm the island's commitment to full sewage treatment made by the States in 1997 and 2009.
He said: "The continuing pumping of millions of gallons of raw sewage into the sea constitutes a pollution risk to our beaches and a health hazard to bathers and those partaking in water sports."
Deputy De Lisle said the untreated sewage contained a wide array of pathogens, chemical and nutrients - many of which pose a serious threat to human health.
For those comments he was branded "irresponsible" and accused of "scaremongering".
Environment Minister Peter Sirett said beachwatch figures showed island beaches were the cleanest in the British Isles.
He said: "All this talk of sewage spread across our beaches is I'm afraid a gross exaggeration and is doing nothing for our tourist industry whatsoever."