Call to conserve Neolithic grave in Delancey Park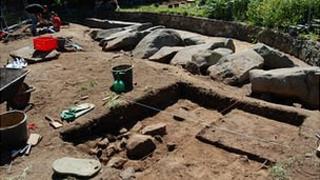 Plans to conserve a Neolithic site in Guernsey have been submitted to the Admiral de Saumarez Trust and the Guernsey Museums service.
Archaeologist Dr George Nash produced the Conservation Management Plan after carrying out fieldwork at the site between 2009 and 2011.
He said the Neolithic gallery grave in Delancey Park had been a centre for the ancient community.
Dr Nash said it had been a settlement before the site became a grave.
He added that the excavation, funded by the trust, had revealed a complex history of the site dating back to the early Neolithic period, some 5,500 years ago.
Dr Nash said the plan he submitted was a long-term strategy looking at the strengths, weaknesses and threats to the site and how they could be acted upon.
He said: "I've suggested we do certain things to enhance it, to make it more of an educational facility, but more importantly make it a marker within the park that people can respect, look at and gain some knowledge from."
Dr Nash said they found "some very nice pieces of flint, but our piece de resistance, so to speak, was the discovery of three very, very small blue glass beads, which probably date to the late Neolithic or early Bronze Age, which is the next period along in the prehistoric sequence.
"It tells us there were local groups probably using the sea as their main source of economics, because of where the site is located, but it also tells something very important - that they were importing stuff from far and wide."