Guernsey deputy maintains water quality concerns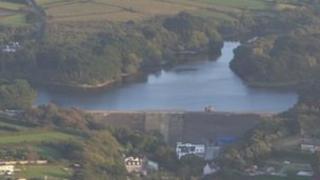 A Guernsey politician maintains that levels of a chemical in a reservoir that holds drinking water poses a risk to human health.
Deputy David De Lisle raised questions about the substance PFOS, a component of fire-fighting foam, in December.
He was told there was no risk to health in a response the same month from the Health Minister Hunter Adam.
However, Deputy De Lisle has renewed calls for the States to adopt more stringent guidelines.
The substance, which was previously found in the foam used by airport firefighters, entered the island's water system after an appliance overturned on the runway in 2002.
Deputy De Lisle said recent tests had shown the levels of PFOS in the water to be 0.6 parts per billion, which was twice the safe limit set by the Minnesota Department of Health.
In a letter of response Deputy Adam said the UK guidance for drinking water was deemed to be best practice for managing PFOS levels, which is one part per billion.
He said the amount of PFOS in drinking water in Guernsey does not pose a significant risk to human health.
Deputy Adam said the drinking water supply was being managed effectively and there would be significant improvements once remedial work at the airport had been carried out.
Plans were approved in July for the removal of soil in the area contaminated by the 2002 spill and for the installation of a groundwater improvement plant in the north west corner of the airfield.