Guernsey waste strategy 'far from ready'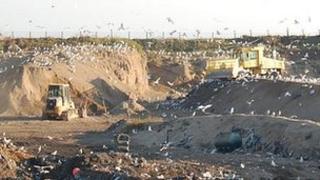 The proposed solid waste strategy for Guernsey is far from complete, according to one politician whose department is behind the latest plan.
The Public Services Department has suggested increasing recycling to 70% of waste and investigate exporting the rest after a year of work.
Deputy Tony Spruce said more work should have been done before these proposals were brought forward.
He said further consultation was needed and issues explained to the public.
Deputy Spruce said: "It concerns me that the douzaines have been ignored, the issues to do with in-vessel composting of food waste have not been explained to the public.
"There are concerns in the report from our water services director and from the Environmental Health people about food waste being spread on land and farmers have not agreed to take the composted material."
'Getting desperate'
He said islanders also seemed unaware of the increased costs to individuals, adding: "Handling our waste and recycling currently costs about £6m a year. The proposals going before the States are going to double that figure.
"Nearly everybody's waste collection service bills are going to double and that's a figure of in excess of £120 for an average house."
Deputy Spruce continued: "I think we're prevaricating, we've been six-eight years - well it's been decades really - but the last six-eight years things have been getting desperate.
"We've spent over £12m on proposals and solutions, which have never come to anything, and here we are now with a proposal to go talk to Jersey, that's not a solution, that's just another step down the road, we need a solution and we need it now."
The department's report is due to be debated in February.