New chairman for Guernsey's Aurigny airlines group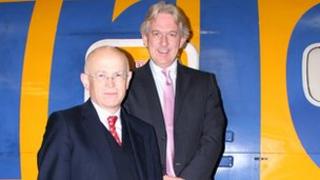 A new chairman has been appointed to Aurigny airline Group in Guernsey.
Jon Moulton takes over the post from Paul Fairclough, who stepped down at the end of 2011 after five years.
He is a UK business figure, as well as being a chartered accountant and corporate financier who has worked with a number of finance companies.
Mr Moulton said he was "very much looking forward to the challenges the job will bring" at the Bailiwick-based airline.
The group's senior non-executive director, Tony Creasey, said: "One of the key tasks will be to build on the recent improvement that the group has experienced over the past year in terms of increased sales and market share."
The former chairman, Mr Fairclough saw the company through an unsuccessful buyout and disruption caused by volcanic ash.
Aurigny employs around 290 staff throughout the Channel Islands, UK and France.