New consultation on St Peter Port cranes project parking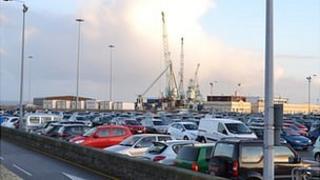 Further consultation will take place over the possible re-allocation of 200 parking spaces in Guernsey during a harbour crane redevelopment project.
Guernsey's Environment Board made the ruling after considering a Public Services Department planning bid.
It aims to create 160 daytime spaces on the East Arm of North Beach, St Peter Port and 40 full-time spaces at Castle Emplacement.
The board called for more work to minimise disruption for harbour users.
Public Services has said the 200 parking spaces at North Beach would be used to house a secure compound during the 30-month project.