Guernsey States to debate fishing limit plans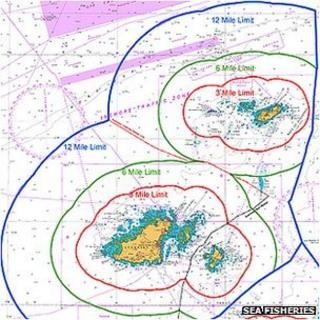 Plans to introduce fishing licences for the area between three and 12 nautical miles (nm) around Guernsey will go before the States in March.
There are currently no laws in the Bailiwick covering the approximately 1,000 sq nm area of sea.
The legislation would mean vessels would need a licence to fish in the area.
The area has been unregulated since previous laws were challenged by UK and Jersey Fishermen in 2007.
A spokesman for the Commerce and Employment Department said: "The absence of sea fish licensing controls... has led to nomadic vessels exploiting the Bailiwick fish stocks in an uncontrolled manner."
It said the lack of a licence system was a "significant risk, to not only the livelihoods of the 171 licensed fishermen who fish legitimately within Bailiwick waters, but also the wholesalers who rely on locally caught fish as a supply source".
Those fishermen are licensed to operate in the Bailiwick's territorial waters, which runs up to 3 nm from the coast.
The department said the change would help to protect fish stocks, ensure fishing was carried out in a sustainable and controlled manner and allow fishing methods such as dredging and trawling to be banned.
The department said that there would be no need to employ extra Sea Fisheries officers or increase operating costs for the Leopardess and Puma, the two boats operated by Sea Fisheries.
It examined three avenues for changing the law; a ministerial order enacted by the UK, an extension of the island's territorial waters and the approval of a Projet de Loi - a draft law.
The department has asked the States to approve the Project de Loi, which if agreed, would only come into force when it had been approved by the Queen in Council and registered by Guernsey's Royal Court.
The department said a ministerial order, which was previously used to enact sea fisheries legislation in 2001, could not be used due to budget cuts by the UK Government.
It said extension of the territorial water, from 3 nm to 12 nm, was being further investigated by the Policy Council as a future route, but it had as yet "an unknown timetable".