HMS Victory shipwreck to be managed by charity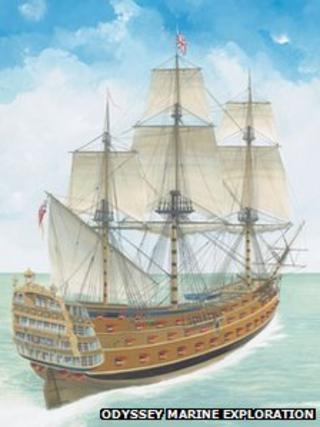 A charity has been set up to recover artefacts from HMS Victory, the Ministry of Defence has announced.
It confirmed reports the Maritime Heritage Foundation had been set up to "recover, preserve and display in public museums" items from the wreck.
More than 1,000 sailors were aboard the British warship when it sank in 1744.
Andrew Robathan MP, Minister for Defence Personnel, Welfare and Veterans, said it "should give better protection to the wreck".
He said it was "very important to British naval heritage".
The 100-gun ship, the predecessor to Admiral Lord Horatio Nelson's Victory, was launched in 1737.
Seven years later it was the flagship of Admiral Sir John Balchin when he led a strong force to successfully relieve a French blockade of the River Tagus, in Portugal, where a British convoy had been trapped.
On the return journey a fierce storm blew up and HMS Victory was separated from the fleet and sank with all hands on 5 October 1744.
Until the wreck was discovered in May 2008 it was thought it had hit the infamous Casquets, a group of rocks north west of Alderney.
The wreck is seen as especially important as it is unusual to find the remains of a British First Rate warship of the period and it represented the pinnacle of naval technology for its time as it was fitted with a complete arsenal of bronze cannon.
Odyssey Marine Exploration, the company that found the shipwreck in the English Channel, brought two of the cannon to the surface to allow the ship to be identified.
They have been asked by the Maritime Heritage Foundation to support the work.
Lord Lingfield, chairman of the foundation, said: "We hope that this site will give us a unique insight into the world of the mid-18th Century Royal Navy.
"We are very concerned that natural erosion, damage from fishing vessels and illegal looting may endanger the wreck and therefore we have planned an archaeological survey that will record the site before it deteriorates further.
"Odyssey Marine Exploration has proved its expertise and we are looking forward to working with them to protect the maritime heritage associated with Balchin's Victory."
The Tory peer, formerly known as Sir Robert Balchin, is a relative of Admiral Balchin.