Trees planted at St Germain to create wildlife habitat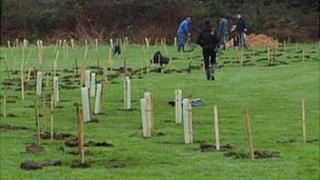 More wildlife will be able to find a home in a Guernsey nature reserve with the planting of 500 trees, according to the Men of the Trees.
The environmental group has planted a variety of species at the St Germain Nature Reserve, a former landfill site.
Group secretary Andy McCutcheon said the trees offered a number of benefits.
He said: "Trees offer us a lot of shelter, but they also offer new habitats in areas where perhaps there isn't a lot available for wildlife."
Mr McCutcheon said: "It is generally a field site, it's basically just grass, and we're looking to improve the area just by putting in trees to enhance the area for wildlife as well as providing landscaping for the site."
The group has worked with a number of partners during the project as funding was provided by the Sigma Group and the Environment Department gave its permission for the project to go ahead on land it controls.
Pupils from the nearby Castel Primary School have also helped to plant some of the English Oak, Hazel, Common Alder, Walnut and Lime trees.
Planting is due to completed before the end of January.
Mr McCutcheon said they planned to lay a commemorative stone to mark the planting later in the year.