Guernsey States asked to fund new harbour cranes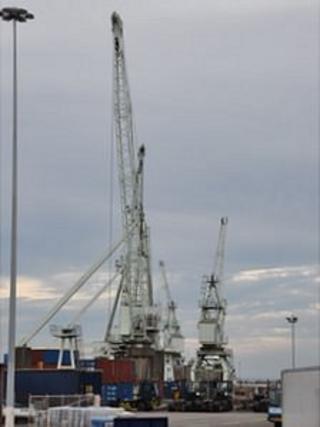 A project to replace the cranes in Guernsey's St Peter Port Harbour will cost nearly £13.7m, according to the Public Services Department.
It wants to replace four of the five existing cranes, which date back to the 1960s and 1970s, with two mobile units.
Before that can happen the freight handling berths need serious structural repairs.
If approved the work is expected to start in April and should be completed in mid-2014.
Of all the goods imported and exported into and out of the island, 98% pass through the harbours.
The department said the cranes had already exceeded their working life and continuing to repair them would be almost impossible at a viable cost.
It said the main risk of not proceeding with the work would be that one or more of the cranes will break beyond repair.
The department also said the ongoing deterioration of the concrete structures would lead to weight restrictions being imposed on the structures currently used for the storage of goods.
Plans have been submitted to use part of North Beach Car Park as a compound during the project, which would involve the loss of about 200 public parking spaces.
The States is due to decide in February if it will approve funding for the project from the capital reserve account, with the funding recovered through increases in harbour charges.