Tow established with drifting ship Federal Miramichi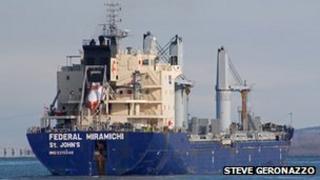 A tug boat has reached a stricken cargo ship adrift in the English Channel.
The French coastguard tug, the Abeille Libertie, reached the Antiguan-registered Federal Miramichi at around 16:00 GMT, about 11.5m off Guernsey.
The bulk carrier vessel was carrying 22,000 metric tonnes of urea, and was heading to Paranagua in Brazil.
Guernsey's Harbour Master, Captain Peter Gill, said establishing a tow would not have been an easy task, given the poor weather in the Channel.
A spokesman for the ship's chartering company, the Canada-based Fednav Group, said the 600ft (180m) vessel had suffered engine and gear failure on Wednesday.
French authorities issued a legal notice to the ship's owners, ordering it to take appropriate action to remedy the situation.
The notice warned the authorities would take action as they saw fit if the deadline was missed, although did not explicitly state what form this would take.
It said the ship presented a serious danger to French shorelines and connected interests.
The French coastguard, Cross Jobourg, said following the establishment of a tow, the ship would be taken to Cherbourg.
A spokesman for the ship's German operator, SUNSHIP Schiffahrtskontor KG, said it would be examined once it arrived at a safe destination.
A tug from the UK was dispatched to the Federal Miramichi on Wednesday but the tow line established between the two vessels parted and the tow attempt was abandoned.