Guernsey museum overhaul reaches peak of activity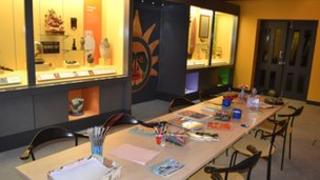 Guernsey's museums service has hit the busiest phase of a major project to reorganise its collections.
Dr Jason Monaghan, the Director of Heritage Services, said a "state of maximum activity" had been reached.
The construction of a new gallery at Candie in St Peter Port, alongside repairs to flooring following flood damage, have added to the workload.
Overhauling storage facilities was identified as a key priority by the Culture and Leisure Department in 2010.
In October of that year, the £250,000 project survived attempts to divert money away in order to fund bowel cancer screening and a public sector pay review.
The bulk of the work will involve a reorganisation of archaeological finds at the service's Grange House storage facility.
An audit by museum curators and internal work in offices and at the shop at Castle Cornet have also begun.
However, an interactive display designed for school-age visitors - called the Discovery Room - has now been completed.