Junction change part of Guernsey Airport runway work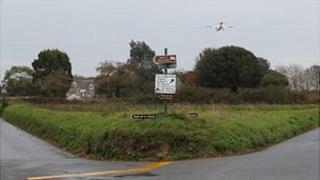 The first visible work for Guernsey Airport's runway project is due to begin in January.
The junction of Route de la Tourelle and Plaisance Roads has been redesigned to compensate for the loss of another nearby road.
The Public Services Department said the work would improve the junction and help cater for additional traffic once La Mare Road was closed permanently.
The road is being used in the expansion of the runway end safety areas.
The work, due to start on 4 January and finish within the month, includes widening the exit from Route de la Tourelle and installing a central island.
The revised junction will be landscaped by the Floral St Peter's Group, which will be responsible for the upkeep of the plants.