Guernsey cemetery plan could see seats replace tombs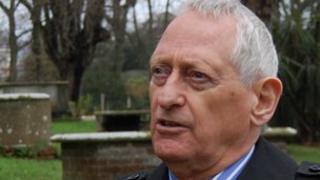 A St Peter Port cemetery could be deconsecrated and turned into a garden, if funds can be found.
Dennis Le Moignan, the parish's junior constable, announced on Thursday a plan to transform the Brothers' Cemetery.
He said it would involve dismantling the tombs, sealing the bottoms and then back-filling them with soil, before placing seats around the one acre site.
He estimated that a five figure sum of sponsorship would be needed but said "we don't have finalised costs yet".
Mr Le Moignan said it could become a popular spot, if it were properly developed.
"It really is pretty in here with all these trees," he said.
"You've got a lovely view out to the sea and in the summer you walk in through the gates and all you can hear are the birds singing."
"But you can also see at the moment a sad state of affairs," he said.
"Tombs half collapsed in... bricks have gone rotten over the years. It's not right to leave things in this state."