Bowel cancer equipment donated by Guernsey charity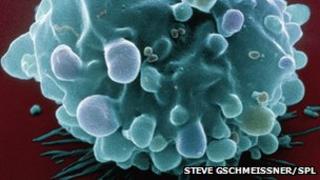 A charity has bought equipment for Guernsey's bowel screening programme after receiving Channel Islands Christmas Lottery money.
The Guernsey Bowel Cancer Awareness Charity had a grant of £13,500 from the proceeds of last year's lottery.
They matched the amount from their own funds and added a £5,000 donation from the Admiral Charitable Trust to pay for the flexible sigmoidoscope (flexi-sig).
The equipment was donated to the island's health authorities.
The flexi-sig is a narrow, flexible tube-like telescopic camera used in the screening programme to look at the left side of the bowel.
It enables health staff to check for polyps, which are small lumps that grow in the bowel and which can, in some cases, become cancerous.
It can also be used to carry out a full colonoscopy.
Earlier this year the States agreed £328,000 of funding for a full bowel cancer screening programme, which is due to start in 2012.
Bowel cancer is the third most common cancer in the British Isles after breast and lung.