Guernsey cruise ship berth proposed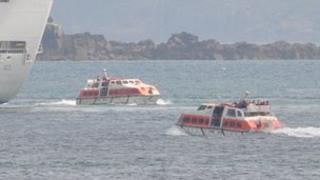 Guernsey could more than quadruple its revenue from visiting cruise ships by building a specific berth, according to the Public Services Department.
It has put forward a report on the subject asking the States for permission to further explore the idea.
The department said cruise ships currently spend £1.3m and with a berth it could rise to up to £6m.
It said the report would see if there was an appetite for the project, which has been costed at £25-£80m.
If approved, Public Services would carry out an engineering assessment of a possible site to the east of the main freight handling area and look into how the project could be funded.
It has already said: "For the concept to be viable it would involve significant private sector involvement."
The department said the island was the leading UK port in the European cruise market and in 2011 saw 69 visits and more than 62,000 passengers land.
This is up from 29,000 passengers in 2001 and the "cruise liner season has continued to deliver strong and consistent performance over the last 10 years".
The report noted there had been 82 cruise ship visits planned for 2011, with the majority of the cancelled visits caused by bad weather.
Currently passengers get to the island via tenders, which can only operate under certain wind strengths or wave heights, and are not used by all cruise companies.
The Public Service Department said where the passengers land at the inter-island quay was not ideal as it was a multi-purpose facility and offered only basic facilities.
It said if the project went ahead it would mean an increase in passenger numbers due to bigger ships being able to visit and generally more frequent visits.
The department also said it would cut the number of cancellations due to bad weather, which would allow a sounder base for investment by local companies, for example on-island tours.
It also suggested the berth could be used for super yachts when not occupied by a cruise liner.